Yacht Crew
For Owners
Topsail's owner, Captain Lou, has sailed vessels of up and 247 ft in length, and 22 crew, both power and sail. With a philosophy of going the exta mile, he has provided first class service to many large yacht owners.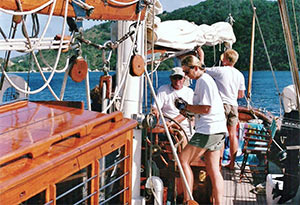 Topsail strives to provide only the very best when it comes to manning your yacht. Honesty, integrity and professionalism are our top requirements. Resumes and references are carefully checked and a phone interview is conducted. Having interviewed scores of crew, Lou knows what to look for. The bottom line is that the owner must feel completely trusting in the intergrity and capability of his/her crew, and Topsail sponsors only the best.
Owners can request information & resumes by phone and then Lou will consult with you to help choose the right person for the job. If the owner's yacht is managed by Topsail Yachts, the fee is covered in the general monthly admin fees.
So, choose the company with the experience, professionalism and integrity. Please contact Capt. Lou to discuss your needs prior to registration.
Owners Click Here to Register.
For Crew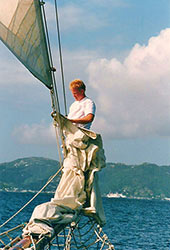 There is a fleet of multi-million dollar yachts sailing the world today. From the sunny Caribbean to Alaska to the South Pacific and the Mediterranean, private and charter yachts make up a global multibillion dollar business. They all require top notch crew and, with some careful preparation, you could find yourself on one of these yachts. While Topsail cannot guarantee that you will find a job, we certainly can make your chances better.
Your first step is to contact Capt. Lou. If we think we can assist  you, we then ask you to register and send your detailed resume with any certificates, references, and special skills you may have. We will then conduct a phone interview with you and your resume will go into the Topsail Yachts International crew roster database. You will be asked to provide at least 3 references and a current photo. There is an admin/registration fee for this service and we do check references. Topsail's Select Crew is a custom service that strives to match crew with the right yacht. We are not a high volume agency with hundreds on the roster. Good luck and fair winds!
Crew Click Here to Register.